Posts for: April, 2018
By Periodontal Associates
April 22, 2018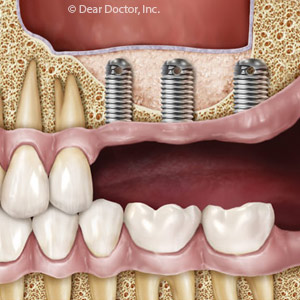 Dental implants are by far the best way to replace missing teeth. But they do more than improve your smile: they can restore your ability to eat, chew and talk properly, especially if the teeth replaced are in the back of your mouth. What's more, they can improve the entire look of your face by restoring facial height and cheek support lost because of the missing teeth.
There is, however, one obstacle to overcome before receiving dental implants — a lack of sufficient bone at the implant site. Bone loss usually occurs when teeth have been missing for some time. This is because when we chew the forces generated by the teeth stimulate continual bone growth to make up for older bone that has dissolved (resorbed). This stimulation doesn't occur after teeth are lost, which slows the rate of bone growth. Over time the amount of healthy bone diminishes.
Without enough bone for support, implants can't be placed properly. Fortunately, some of the bone can be regenerated through techniques that place bone grafting material at the site to stimulate and serve as a scaffold for new bone.  The new bone will eventually replace the graft.
For missing upper back teeth with bone loss, we can take advantage of facial anatomy to grow the bone needed for implants. This area of the face is where the maxillary sinuses, air spaces lined with a tissue membrane, are located on either side just above the upper jaw. After determining their exact size and location through detailed x-ray imaging, we can surgically access the area inside the mouth just above the missing teeth.
The sinus cavity is an area where bone growth can occur by placing a bone graft between the floor of the sinus and the sinus membrane. Sometimes bone growth enhancers are used to stimulate and speed up regeneration. The procedure can usually be performed with local anesthesia (much like a routine tooth filling), with only mild discomfort afterward for a few days managed by an anti-inflammatory drug like ibuprofen and a decongestant for sinus swelling.
After six to seven months, we re-evaluate the area to see if sufficient bone has returned for implant surgery. If so, you will be well on your way to achieving a new look and better function through dental implants.
If you would like more information on building new bone through sinus surgery, please contact us or schedule an appointment for a consultation. You can also learn more about this topic by reading the Dear Doctor magazine article "Sinus Surgery."
By Periodontal Associates
April 12, 2018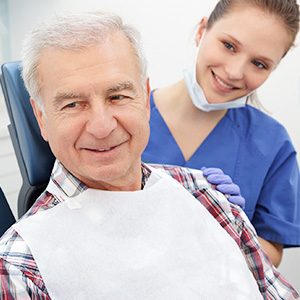 Dental implants are best known as restorations for single missing teeth. But there's more to them than that—they can also be used to support and secure removable dentures or fixed bridges.
That's because a dental implant is actually a root replacement. A threaded titanium post is inserted directly into the jawbone where, over time, bone cells grow and adhere to it. This accumulated bone growth gives the implant its signature durability and contributes to its long-term success rate (95%-plus after ten years). It can support a single attached crown, or serve as an attachment point for a dental bridge or a connector for a removable denture.
The method and design of implants differentiates it from other restoration options. And there's one other difference—implants require a minor surgical procedure to insert them into the jawbone.
While this might give you pause, implant surgery is no more complicated than a surgical tooth extraction. In most cases we can perform the procedure using local anesthesia (you'll be awake the entire time) coupled with sedatives (if you have bouts of anxiety) to help you relax.
We first access the bone through small incisions in the gums and then create a small channel or hole in it. A surgical guide that fits over the teeth may be used to help pinpoint the exact location for the implant.
We then use a drilling sequence to progressively increase the size of the channel until it matches the implant size and shape. We're then ready to insert the implant, which we remove at this time from its sterile packaging. We may then take a few x-rays to ensure the implant is in the right position, followed by closing the gums with sutures.
There may be a little discomfort for that day, but most patients can manage it with over-the-counter pain relievers like aspirin or ibuprofen. It's what goes on over the next few weeks that's of prime importance as the bone grows and adheres to the implant. Once they're fully integrated, we're ready to move to the next step of affixing your crown, bridge or denture to gain what you've waited so long for—your new implant-supported smile.
If you would like more information on dental implants, please contact us or schedule an appointment for a consultation. You can also learn more about this topic by reading the Dear Doctor magazine article "Dental Implant Surgery: What to Expect Before, During and After."