Posts for: May, 2017
By Periodontal Associates
May 23, 2017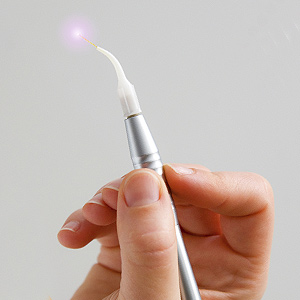 Since their development in the laboratory over five decades ago, lasers have found increasing use in our everyday lives. In the field of medicine, it's not uncommon to find lasers in the offices of dermatologists, ophthalmologists and surgeons, to name just a few. Now, some dentists are finding that lasers can offer an alternative means of treating gum disease — and one that may have advantages in certain situations.
You probably know that a laser produces a special kind of light — in fact, its name is an acronym for "Light Amplification by Stimulated Emission of Radiation." Essentially, a medical laser uses electrical energy to produce an intense and narrow beam of concentrated light. This light can be directed to a particular area, often via a fiber-optic channel. The laser's precision allows a doctor or technician to focus the light energy exactly where it's needed — to remove diseased tissue, seal off blood vessels, and sterilize a wound, for example.
For several years, periodontists — dentists who specialize in treating diseases of the gums — have been researching the use of lasers for treating certain types of gum disease. In standard clinical practice, hand-held instruments and ultrasonic cleaning tools are used at regular time intervals (3 – 6 months) to remove the sticky bacterial biofilm, as well as calculus (tartar), that forms in between teeth and gums. If that still isn't effective, gum surgery may be required to access the affected area, remove diseased tissue, and reduce pocket depth (the space below the gum line that gets larger as bone loss occurs) to prevent reinfection.
Recently, however, several new procedures have been developed that use lasers to accomplish some or all of these goals. One type of therapy uses a special laser that emits pulses of light with a specific wavelength (color) of 1064 nanometers. This light passes through healthy cells like a sunbeam through a window — but when it encounters darkly-pigmented bacteria, it vaporizes them instantly!
One of the potential advantages of laser treatment is its precision: focused directly on the area where trouble occurs, it targets diseased tissue but leaves healthy tissue alone. Another is that laser treatment is less invasive: It requires less tissue removal, and may cause less discomfort and tissue shrinkage (gum recession) than conventional periodontal surgery. And because it produces small amounts of heat, it can seal blood vessels and help control bleeding.
While lasers have long shown promise for treating gum disease, until recently it wasn't clear if they offered any advantages over traditional methods. Now, several studies have shown that certain laser treatments can be just as effective as traditional gum surgery in many cases — with the potential benefit of being less invasive. In the future, the use of lasers for periodontal procedures is likely to increase.
It's important to remember that no single treatment — not even a laser — can "zap" gum disease in one fell swoop. Controlling periodontal disease requires effective at-home oral hygiene combined with regular professional care. If you have questions about periodontal disease, please call our office to schedule a consultation.
By Periodontal Associates
May 08, 2017
For anyone else, having a tooth accidentally knocked out while practicing a dance routine would be a very big deal. But not for Dancing With The Stars contestant Noah Galloway. Galloway, an Iraq War veteran and a double amputee, took a kick to the face from his partner during a recent practice session, which knocked out a front tooth. As his horrified partner looked on, Galloway picked the missing tooth up from the floor, rinsed out his mouth, and quickly assessed his injury. "No big deal," he told a cameraman capturing the scene.
Of course, not everyone would have the training — or the presence of mind — to do what Galloway did in that situation. But if you're facing a serious dental trauma, such as a knocked out tooth, minutes count. Would you know what to do under those circumstances? Here's a basic guide.
If a permanent tooth is completely knocked out of its socket, you need to act quickly. Once the injured person is stable, recover the tooth and gently clean it with water — but avoid grasping it by its roots! Next, if possible, place the tooth back in its socket in the jaw, making sure it is facing the correct way. Hold it in place with a damp cloth or gauze, and rush to the dental office, or to the emergency room if it's after hours or if there appear to be other injuries.
If it isn't possible to put the tooth back, you can place it between the cheek and gum, or in a plastic bag with the patient's saliva, or in the special tooth-preserving liquid found in some first-aid kits. Either way, the sooner medical attention is received, the better the chances that the tooth can be saved.
When a tooth is loosened or displaced but not knocked out, you should receive dental attention within six hours of the accident. In the meantime, you can rinse the mouth with water and take over-the-counter anti-inflammatory medication (such as ibuprofen) to ease pain. A cold pack temporarily applied to the outside of the face can also help relieve discomfort.
When teeth are broken or chipped, you have up to 12 hours to get dental treatment. Follow the guidelines above for pain relief, but don't forget to come in to the office even if the pain isn't severe. Of course, if you experience bleeding that can't be controlled after five minutes, dizziness, loss of consciousness or intense pain, seek emergency medical help right away.
And as for Noah Galloway:Â  In an interview a few days later, he showed off his new smile, with the temporary bridge his dentist provided… and he even continued to dance with the same partner!
If you would like more information about dental trauma, please contact us or schedule an appointment for a consultation. You can learn more in the Dear Doctor magazine articles "Trauma & Nerve Damage to Teeth" and "The Field-Side Guide to Dental Injuries."