Posts for: March, 2017
By Periodontal Associates
March 16, 2017
Can you have healthy teeth and still have gum disease? Absolutely! And if you don't believe us, just ask actor David Ramsey. The cast member of TV hits such as Dexter and Arrow said in a recent interview that up to the present day, he has never had a single cavity. Yet at a routine dental visit during his college years, Ramsey's dentist pointed out how easily his gums bled during the exam. This was an early sign of periodontal (gum) disease, the dentist told him.
"I learned that just because you don't have cavities, doesn't mean you don't have periodontal disease," Ramsey said.
Apparently, Ramsey had always been very conscientious about brushing his teeth but he never flossed them.
"This isn't just some strange phenomenon that exists just in my house — a lot of people who brush don't really floss," he noted.
Unfortunately, that's true — and we'd certainly like to change it. So why is flossing so important?
Oral diseases such as tooth decay and periodontal disease often start when dental plaque, a bacteria-laden film that collects on teeth, is allowed to build up. These sticky deposits can harden into a substance called tartar or calculus, which is irritating to the gums and must be removed during a professional teeth cleaning.
Brushing teeth is one way to remove soft plaque, but it is not effective at reaching bacteria or food debris between teeth. That's where flossing comes in. Floss can fit into spaces that your toothbrush never reaches. In fact, if you don't floss, you're leaving about a third to half of your tooth surfaces unclean — and, as David Ramsey found out, that's a path to periodontal disease.
Since then, however, Ramsey has become a meticulous flosser, and he proudly notes that the long-ago dental appointment "was the last we heard of any type of gum disease."
Let that be the same for you! Just remember to brush and floss, eat a good diet low in sugar, and come in to the dental office for regular professional cleanings.
If you would like more information on flossing or periodontal disease, please contact us today to schedule an appointment for a consultation. You can also learn more by reading the Dear Doctor magazine article "Understanding Gum (Periodontal) Disease."
By Periodontal Associates
March 01, 2017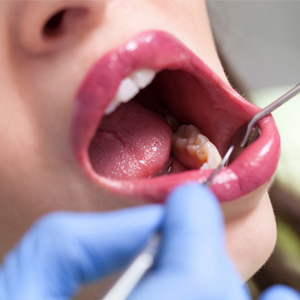 Last year, over 1.5 million people heard the words no one wants to hear: "You have cancer." While only a small portion of those — about three percent — were diagnosed with oral cancer, their survival rate isn't as good as with other types of cancers: 58% five years after diagnosis.
Here, then, are some things you should know about this deadly disease.
Oral cancer is an "equal opportunity" disease. People from all walks and stations of life experience oral cancer. The disease has caused the untimely deaths of Ulysses S. Grant, Babe Ruth and George Harrison, one of the original Beatles. However, you don't have to be prominent or famous to acquire oral cancer: it can strike anyone at any age, especially people 40 years and older.
Oral cancer is difficult to detect early. Oral cancer usually appears as a small, scaly-shaped sore known as a squamous cell carcinoma. Appearing in the lining of the mouth, lips, tongue or back of the throat, the early stages often resemble other benign conditions such as cold or canker sores, so they're easily overlooked in the early stages. To increase your chances of an early diagnosis, you should see your dentist about any mouth sore that doesn't heal in two to three weeks; it's also advisable to undergo a specific oral cancer screening during your regular dental checkups.
Tobacco and heavy alcohol use are strongly linked to oral cancer. Tobacco smokers are five to nine times more likely to develop oral cancer while snuff or chewing tobacco users are roughly four times more likely than non-tobacco users. People who are moderate to heavy drinkers are three to nine times more likely to develop oral cancer than non-drinkers.
You can reduce your risk for oral cancer. Besides quitting tobacco use and moderating your alcohol consumption, there are other things you can do to reduce cancer risk: a nutritious diet rich in fresh fruits and vegetables; limited sun exposure with adequate sunscreen protection and clothing; and safe sexual practices to avoid contracting Human Papilloma Virus (HPV16), strongly linked to oral cancer. And above all, practice effective, daily oral hygiene with regular dental cleanings and checkups.
If you would like more information on prevention and treatment of oral cancer, please contact us or schedule an appointment for a consultation. You can also learn more about this topic by reading the Dear Doctor magazine article "Oral Cancer."